The fans get to decide
Justin Bieber's new single, "Boyfriend," co-written with Mike Posner, doesn't come out until March 26, but the teen idol has his fans in a frenzy about the track already.

Friday morning, Bieber teased that he would tweet the single cover art, but instead, posted two potential covers and is letting his fans decide. The song will be the first single off his new album, "Believe." The cover that gets the most tweets over the weekend wins. Mind you, to the non-Belieber, there is not that much difference in the covers: he has on the same shirt in both, he's leaning toward his right, but in one he's running his fingers through what looks like a new hair-do and in the other, he's staring off longingly (no doubt, he's waiting for you, girl.... ). Either way, if he's finally ditched the side bangs for good now that he's 18, we applaud the Bieb.
And big props to Bieber for signing the on-line petition to get the MPAA to change the rating for "Bully" from R. If he gets his fans involved, we bet it will make the difference.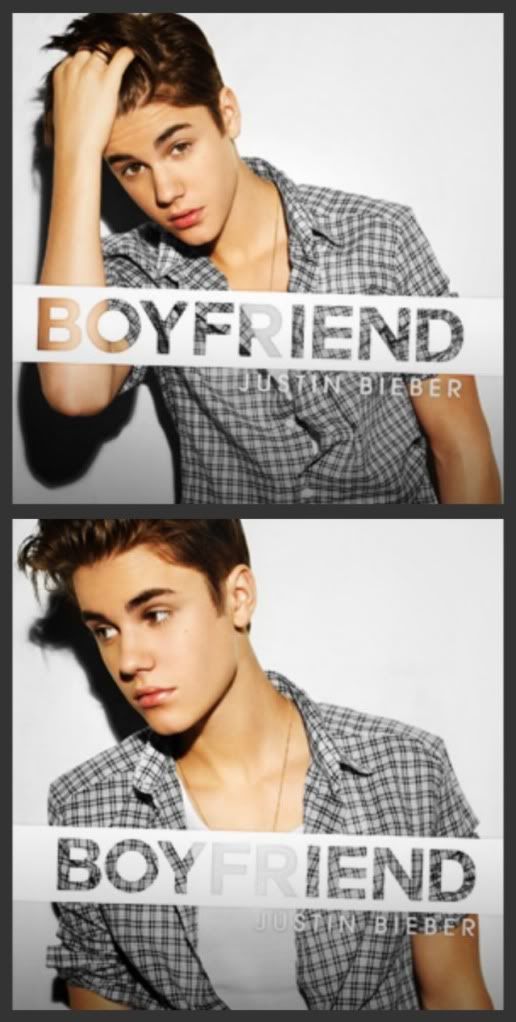 Which one do you like better?
Follow Melinda Newman on Twitter @HitFixMelinda

When can you get her debut album?
Critic's Rating B-
Readers' Rating A+
Credit: AP Photo
"American Idol" contestant Haley Reinhart will drop her debut album, "Listen Up!" on May 22 on 19/Interscope.

The jazzy singer's first single "Free," will be for sale on March 20, but you can stream it for free now on her Facebook page. (You have to go to her page to hear it. There's a slowed down, demo version on youtube, but it's not as strong as the final track).
Join the robots at La Jolla Playhouse
The Flaming Lips' new musical, "Yoshimi Battles the Pink Robots," based on the 2002 album of the same name, is coming to theaters. The musical will bow this fall at the prestigious La Jolla (Calif.) Playhouse.

Des McAnuff, who has directed such plays as "Jersey Boys" and the current Broadway revival of "Jesus Christ Superstar," will helm the production, according to the Los Angeles Times. The newspaper notes that screen writer Aaron Sorkin, who was previously connected with the project, which has been in the works for five years, is no longer associated with it.

Like Green Day's "American Idiot," "Yoshimi," which chronicles the adventures of a female Japanese artist who ventures into the world of robots, includes the songs from the titular album, but also includes tunes from other Flaming Lips albums.
Look for a November or December premiere.

Have you downloaded 'Taylor Allderdice' yet?
Wiz Khalifa's latest mixtape, "Taylor Allderdice," has proved so popular that it crashed its website.

The mixtape, available on datpiff, dropped Tuesday night and features vocals from his new fiance Amber Rose and from Rick Ross on a track called "Never Been Part 2." The song is a sequel to "Never Been" from the "Kush & Orange Juice" mixtape.

Khalifa, who has a top 10 hit, "Young, Wild & Free," with Snoop Dogg on the Billboard Hot 100 right now, followed the action on Twitter, tweeting, "Yea Taylors, We Crashed That Shit!!!"

For those not in the know, Taylor Allderdice is the name of Khalifa's high school in Pittsburgh.

Datpiff.com seems to be running fine now, but if you have trouble, you can also download the mixtape. at taylorallderdicemixtape.com
Were you able to download the mixtape before the site crashed? What did you think?
Follow Melinda Newman on Twitter @HitFixMelinda

What happens with Adele, Katy Perry, and Kelly Clarkson?
"We Are Young" by fun. featuring Janelle Monae ages a second week at No. 1 on the Billboard Hot 100 as the chart makes some major modifications.

Starting with this edition, the Billboard Hot 100 will incorporate a number of streaming services into its calculations, including Slacker, Spotify, MOG and Rdio. The chart will continue to also rely on radio airplay, single sales and Yahoo! radio streams and Yahoo! on-demand video plays. Sales weigh the most, followed by radio and then streaming.

Similarly to "Young," the titles in the 2-4 spots remain the same, despite the changes in methodology: Kelly Clarkson's "Stronger" is at No. 2; Adele's "Set Fire To The Rain" at No. 3 and The Wanted's "Glad You Came" at No. 4.


Is Keith Richards' health an issue?
The Rolling Stones turn 50 this year, but unlike the Beach Boys, who are undergoing a huge tour to commemorate their golden anniversary this year, the Stones have pushed off the celebration until 2013.

However, a piece in Rolling Stone casts some doubts on Keith Richards' health that will sadden any Stones' fan. Through interviews with Mick Jagger and Richards indicate they hope to tour in 2013, as well return to the studio and release a documentary, but sources say that following his head injury while on vacation in Fiji in 2006 (the one where he fell out of the tree, remember that one?) have affected his playing abilities.


Why do Lady Antebellum, Coldplay and Lil Wayne fly back into the top 10?
Bruce Springsteen's "Wrecking Ball" blasts Adele's "21" out of the top spot on the Billboard 200 in an action-filled week.

"Wrecking Ball" sold 196,000 copies last week, according to Nielsen Soundscan, topping "21" by a slim 4,000 units. For now, that ends "21's" 23 non-consecutive weeks at No. 1, but the title has been known to bounce back up into the top spot (although there's a fairly heavy slate of big-name albums coming up and she has nothing on her horizon that would pump the set, so this may really be it).

Second song arrives from 'Blunderbuss'
Credit: Columbia Records
If the first two songs we're hearing are any indication, Jack White's solo album, "Blunderbuss," will be all over the place.

Today, White began streaming "Sixteen Saltines" on his website. He debuted the song on "Saturday Night Live" a few weeks ago, but that was a bit of a loud mess. The recorded version is also very loud, but hardly a mess. It's a batch of glam, rock, blues, and Jack White's special sauce. And it goes hard.
[More after the jump...]
New track from 'MDNA' surfaces full of light
Credit: AP Photo
Madonna's found a keeper: he's like Caesar, stepping onto the throne and like Lincoln because he fights for what's right.

After releasing snippets or lyrics of songs that clearly call out some of the men in her life, like "I Don't Give A," Madonna is a total ray of light when it comes to describing her man in this one-minute clip of "Superstar." She's so smitten, she'll give the guy the password to her phone. If that's not love, we don't know what is.
[More after the jump...]
Artists join Radiohead, Phish, Red Hot Chili Peppers and others
Santigold, fun., Temper Trap, Danzig and Puscifer have been added to the 2012 Bonnaroo line-up.

The acts join such previously announced acts as Radiohead, Phish, Red Hot Chili Peppers, The Avett Brothers, The Shins, Foster the People and The Beach Boys.

Danzig will be joined by other acts, including Sam Hain, to perform the music of The Misfits.

Bonnaroo runs June 7-10 in Manchester, TN.