It's her life and she'll live it how she wants, thank you very much
Critic's Rating

B-

Readers' Rating

A
Kelly Clarkson has had it with your telling you how to live her life. On "Catch My Breath," she declares she will forge her own path and you can't keep her from wanting and doing it all.
[More after the jump...]
Deluxe box set includes original demos and footage from first concert
Credit: AP Photo
Previously unreleased early concert footage and demos will be among the highlights of "XX," a box set commemorating the 20th anniversary of Rage Against the Machine's debut.

Out Nov. 27 in various incarnations, including the standard remastered debut album with three bonus tracks, or the debut CD with a DVD or a box set with the above and several extras including original demos and the band's free Finsbury Park 2010 concert, according to the band's website.

The reissued debut includes new liner notes penned by Public Enemy's Chuck D, according to Rolling Stone. Other highlights include early footage, including from the band's first show at at Cal State Northridge in 1991.
No concert dates have been announced in conjunction with the anniversary.

California country fest also includes Hank Williams Jr and Jerry Lee Lewis
Credit: AP Photo
Lady Antebellum, Zac Brown Band and Toby Keith will headline Stagecoach 2013, which takes place, April 26-28. A helpful countdown clock on the official Stagecoach site reminds us that is only 198 days away.

Also among the nearly 50 acts on the Goldenvoice-produced, three-day fest at Indio, Calif.'s Empire Polo Grounds are Dierks Bentley, Dwight Yoakam, Darius Rucker, Jeff Bridges (yes, that one), Roger McGuinn, Thompson Square, Lonestar, Jerry Lee Lewis and Hank Williams Jr.

Eleven days from now, tickets will go on sale. General admission for all three days is $239, including fees, taxes and shipping. There are also tickets for reserved seating by the stage that sell for up to $1099 (complete with a commemorative laminate).
Chaos reigns as she's left 'lying on the cold, hard ground'
Critic's Rating C
Readers' Rating A+
Credit: AP Photo
Taylor Swift has dropped four songs from her new album, "Red." Today we get " I Knew You Were Trouble," which combines the stutter step of Rihanna's "Umbrella" and the pop/dubstep of Alex Clare's "Too Close."
[More after the jump...]
British singer mines love and loss on U.S. debut
Critic's Rating B
Readers' Rating B+
Credit: Polydor Records
Prince William and Kate Middleton's favorite wedding singer, Ellie Goulding, finally sees her sophomore album, "Halcyon," come out this Tuesday, nearly a year after "Lights" first illuminated the Billboard Hot 100.

The bouncy "Lights," which was on her first album and is a bonus cut here, only hints at the depth the British 25-year old possesses. With a often trembly voice that recalls everyone from Florence Welch to Lykke Li, Kate Bush and James Blunt (seriously, listen to the first verse of the title track), Goulding inhabits an ethereal world where her feathery vocals float above often electronic musical bed.

What lifts Goulding above the raft of female singers out there currently is how she and producer Jim Eliot often use her voice as additional instrumentation, such as on the stompy "Only You." Her vocalization provides the melody, as she sings around it. On "Joy," a song about knowing happiness has to come from within and not "in your arms," her voice, backing vocals and strings create a complete wall of sound.

Much of the material deals with love and its disappearance, whether it be the end of a romantic relationship, or, more poignantly, her father deserting the family when Goulding was five (she hasn't seen him since). On the trembly "I Know You Care," she forgives him in way that it's hard to imagine he deserves. As a songwriter, she has the storytelling down already, but she needs to learn how to craft a catchier chorus. This album is more about atmospherics and emotion than hooks.

Though her voice can seem frail at times, she uses her quiver to great effect on "Dead In the Water," a largely a cappella stunner of a song about a woman whose husband was swept out to sea while they were walking on the beach, and on the airy "Atlantis" (though the subsequent drop into a heavy chorus feels out of place).

"It's OK to be afraid, but it will never be the same," she sings on "Explosions," as a angelic vocals surround her. That same otherworldly feel permeates almost every song on "Halcyon." Violins collide with synthesizers and tribal drums and hand claps crash into many of the songs, but it's Goulding's confessional, vulnerable vocals that you'll remember long after you've finished listening to "Halcyon."






Less than 72 hours later, Hova drops an 'optic EP' from 8 Barclays Center shows
Credit: AP Photo
If you missed Jay-Z's 8-night stand to open the Barclays Center in Brooklyn, less than 72 hours after he walked off the stage, a live album from the event can be yours.

"Jay-Z: Live In Brooklyn" is available for pre-order on iTunes now and will be available on Oct. 9. On the cover, Jay-Z sports a New Jersey Nets' jersey, which he helped design. He is also a minority owner in the basketball team.
[More after the jump...]
Justin Bieber, Psy and 'American Idol' also make the Top 10
Credit: Jonathan Short/AP
1. Mumford & Sons: The lads from Britain land the biggest-selling first-week sales of any album this year as "Babel" sells 600,000 copies. Enjoy while it lasts, boys, Taylor Swift will blow past that with "Red's" Oct. 22 bow.

2. Adele: "Skyfall" falls right to the top of the iTunes chart mere minutes after its release. Could it debut atop the Billboard Hot 100 based on only four days of airplay and sales?

3. Psy: It looks like the South Korean rapper is going to ride "Gangnam Style" all the way to the top of Billboard Hot 100 next week (unless Taylor Swift or Adele are album to stop him). He will forever join the ranks of the Macarena and Lambada. And we all remember the names of the two artists who had those hits, right?

4. Foo Fighters: The band signs off for a hiatus, but leader Dave Grohl assures the world that they aren't breaking up and that he loves the band as much as the rest of us do

5. The Replacements: The much-beloved Minneapolis alternative band reunites for a charity EP to help ailing former drummer Slim Dunlap. Maybe they can convince the Smiths to get back together.

6. Rush: The Canadian power trio finally gets what its millions of fans have been clamoring for for more than a decade: a nomination for induction into the Rock & Roll Hall of Fame. Can we have "A Show Of Hands" of who thinks they should get in?

7. Justin Bieber: After yakking on stage on the opening night of the "Believe" tour, he comes to Los Angeles for two sold-out shows at Staples Center. If photos on my FB and Twitter pages are any indication, he, no doubt, spent more time taking photos with every celeb's young daughter than he did on stage.

8. "American Idol": Does it matter if the Nicki Minaj/Mariah Carey fight footage was staged? Whether real or fake, it managed to get the focus squarely on "American Idol" again and away from its competitors. Desperate times call for desperate measures.

9. Viva Digital: Digital album sales are up 15% over this time period last year. It's still not enough to put the overall market ahead of this time last year, but it probably means that your grandma has finally learned how to download her favorite Susan Boyle album.

10. The Beatles: Friday marked the 50th anniversary of the release of the Beatles' first single, "Love Me Do." And the world changed forever. Thank you seems inadequate.



Five new sets likely to bow in Top 10
The Ms have it as a trio of acts, Mumford & Sons, Muse, and Miguel, will snag the top three spots on the Billboard 200 next week.

Mumford & Sons' "Babel" will drop precipitously in sales from its lofty year-best opening frame of 600,000 this week, but at 165,000 will still handily nab the top spot again.

Muse's "The 2nd Law" will be the only other title to top the 100,000 mark at up to 120,000 for the No. 2 spot. "Law" is one of five likely new albums to bow in the Top 10, according to Hits Daily Double.

R&B singer Miguel's "Kaleidoscope Dream" will come in at No. 3 with sales of up to 65,000.

Diana Krall's "Glad Rag Doll" looks good for a No. 5 debut, though "Doll" and Three Days Grace's "Transit Of Venus" are in a dead heat for the spot with projected sales of between 45,000 and 50,000 copies for each title.

Former "America's Got Talent" contestant and classical crossover sensation Jackie Evancho looks good for No. 7 with "Songs From The Silver Screen." British "X Factor" contestant Cher Lloyd will make her U.S. debut at No. 8 with "Sticks & Stones."

Other non-debuts besides "Babel" in the Top 10 are Pink's "The Truth About Love," at No. 4, Little Big Town's "Tornado" at No. 9 and G.O.O.D. Music's compilation, "Cruel Summer" at No. 10.
'The Voice' judge springs forth naked
Christina Aguilera is taking the name of her new album, "Lotus," literally. As the just-released cover image shows, Aguilera springs forth naked, covered only by lots of hair extensions and subtle lighting, from a pink lotus flower.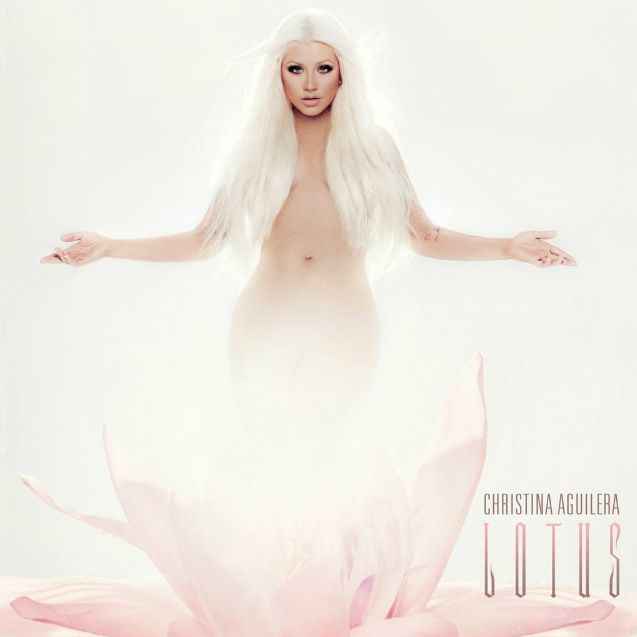 The lotus flower has lots of symbolic meanings, including emerging from a dark period into the light or strength, since the flower's underwater stalk is so strong. Aguilera referenced the strength in a previous statement about the album title: The lotus represents "an unbreakable flower that survives under the hardest conditions and still thrives"....Like our little lotus flower, Christina.

Fashion photographer Enrique Badulescu shot the cover and the accompanying album artwork.
"Lotus" comes out Nov. 13.
What do you think of the album cover?


Six songs from 'Babel' land on the chart
It's a good week to be in Mumford & Sons. In addition to scoring the year's best-selling opening sales week with "Babel," the group has landed another coup: Six songs from "Babel" are on the current Billboard Hot 100 chart, making M&S the first band to land a sextet of songs on the chart simultaneously since the Beatles 48 years ago.

The band's Ben Lovett has jokingly referred to M&S as "a poor man's version of the Beatles," after portraying a Beatles cover band on "Saturday Night Live." Now they're linked in a way he could have never imagined.

In addition to first single "I Will Wait," which is No. 57, also in the Hot 100 are "Babel," (No. 60), "Lover's Eyes" (No. 85), "Whispers in the Dark" (No. 86), "Holland Road" (No. 92) and "Ghosts That We Knew" (No. 94), according to Billboard.

The Beatles achieved the feat with songs from "A Hard Day's Night" the week of Sept. 19, 1974. However, Mumford & Sons has quite a long way to to go surpass the Beatles record, set in April 1964, when the group has a staggering 14 songs concurrently on the Hot 100.