Is she coming to your hometown?
The first leg of Carrie Underwood's "Blown Away" tour doesn't end for another two weeks, but she has already announced a 2013 leg.

Today, Underwood unleashed another 40 dates on her website, starting Feb. 13 in Colorado Springs, Colo. Hunter Hayes will continue as opener. Tickets go on sale Nov. 2; $1 from each ticket sold will go to the Red Cross on the next leg, as it has on the first leg.
Underwood is on break from touring this week to prepare for hosting the CMA Awards, which will air on ABC on Nov. 1.
The new 2013 tour dates are below:
2-13 Colorado Springs, CO -- Colorado Springs World Arena
2-14 Broomfield, CO -- 1STBANK Center
2-17 Boise, ID -- Taco Bell Arena
2-19 Billings, MT -- MetraPark
2-21 Spokane, WA -- Spokane Veterans Memorial Arena
2-22 Yakima, WA -- Yakima Sundome
2-25 Oakland, CA -- Oracle Arena
2-26 Stockton, CA -- Stockton Arena
3-2 Las Vegas, NV -- Mandalay Bay Events Center
3-3 Ontario, CA -- Citizens Business Bank Arena
3-5 Fresno, CA -- Save Mart Center
3-8 Rio Rancho, NM -- Santa Ana Star Center
3-21 Richmond, VA -- Richmond Coliseum
3-23 Roanoke, VA -- Roanoke Civic Center
3-25 Hershey, PA -- Giant Center
3-26 Buffalo, NY -- First Niagara Center
3-28 Hamilton, ON -- Copps Coliseum
3-30 Kingston, ON -- K-Rock Centre
4-2 St. John, NB -- Harbour Station
4-9 Portland, ME -- Cumberland County Civic Center
4-11 Youngstown, OH-- Covelli Centre
4-13 Lansing, MI -- Breslin Student Events Center
4-14 Ft. Wayne, IN -- Allen County Memorial Coliseum
4-16 Greenville, SC -- BiLo Center
4-17 Columbia, SC -- Colonial Life Arena
4-19 Augusta, GA -- James Brown Arena
4-20 Jacksonville, FL -- Jacksonville Veterans Memorial Arena
4-23 Houston, TX -- Toyota Center
4-25 San Antonio, TX -- Freeman Coliseum
4-27 Cedar Park, TX -- Cedar Park Center
4-29 Lafayette, LA -- Cajundome
5-2 Bloomington, IL -- U.S. Cellular Coliseum
5-3 Milwaukee, WI -- BMO Harris Bradley Center
5-5 Toledo, OH -- Huntington Center
5-8 Charleston, WV -- Charleston Civic Center
5-10 Rockford, IL -- BMO Harris Bank Center
5-12 Omaha, NE -- CenturyLink Center
5-13 Sioux City, IA -- Tyson Events Center
5-15 Winnipeg, MB -- MTS Centre
5-18 Edmonton, AB -- Rexall Place


Can the clip save the single?
Critic's Rating C
Readers' Rating n/a
Well, they can't all be "Call Me Maybe," can they? Carly Rae Jepsen's video for current single, "This Kiss," is not going to lift the song into a pop culture phenomenon, as did the clip for "Maybe."

Instead, Jepsen has delivered a fairly mundane video for the peppy song about wanting to kiss a boy so badly, even though you both are attached to other folks.
[More after the jump...]
At least they don't mention cankles
Critic's Rating C+
Readers' Rating B+
Credit: AP Photo
Call it "What Makes Your Beautiful, Part 2."

One Direction's new track, "Little Things" catalogs, in great detail, all the things some girls/women hate about themselves: from her crinkles by her eyes and her stomach and her thighs to her weight and the fact that "you still have to squeeze into your jeans." Thanks for noticing.

Hey girl, guess what? You may not like them, but it's all those "Little Things" that make your man love you and makes you think you're beautiful...or at least if your man is in One Direction. The only thing they leave out is cankles.

The stripped-down ballad, co-written by Ed Sheeran, is on 1D's new album, "Take Me Home," out Nov. 13. Yeah, it's sweet, but, you know what, dude? We don't need for you to point out that it's those things that make you love us. We just want you to pretend they don't exist and that you don't see them. Now all you've done is make us more self-conscious. Just like how your bald spot and your hairy back are two of the little things that make you all the more lovable to us. Now hand over the remote and leave me alone.

Seriously, while a lyric video has been posted for "Little Things," it hasn't been confirmed as a second single from "Take Me Home," following "Live While We're Young." "Young" peaked at No. 3 on the Billboard Hot 100, driven largely by digital sales as opposed to radio play. This week it tumbles 10 spots to No. 31.
Justin Bieber and Justin Timberlake also make the list
Credit: Matt Sayles/AP
1. Taylor Swift: Selling 1 million copies of your album in one week gets you a lot of things, the least of which is No. 1 on Music Power Rankings.
2. Justin Bieber: Biebs' total YouTube views top 3 billion. If he weren't Canadian, he would handily win the presidential election.
3. Jason Aldean: The country singer not only lands the No. 1 album in the country, he sells out Boston's Fenway Park so quickly a second date is added. Kind of crazy given that most non-country fans have no idea who he is. Like he cares.

4. Lady Gaga: Mama Monster gets 19 species of ferns named after her. In response, Lady Gaga decides her fans will now be known as Little Ferns.

5. Adele's baby: Has he gotten a record deal yet? Can we sign him?

6. Justin Timberlake: He serenaded new wife Jessica Biel with a new song. As long as it wasn't called "Wedding Bell Blues," we bet she's very happy.

7. The Rolling Stones: They play a club gig for 600 fans in Paris. Within two months, 150,000 people will claim they were there.

8. Arcade Fire: The 2011 Grammy winners for album of the year are back in the studio working on the follow-up to "The Suburbs." What's next? "The ExUrbs?"

9. James Brown: Brian Grazer and Mick Jagger join forces to produce a feature biopic on Brown. They may have to be the hardest working men in show business to actually get this one to the screen.

10. Bruno Mars: The singer became the latest double threat to both perform and host on "Saturday Night Live," bringing the show its best rating in months. Imagine if "SNL" had let Lana Del Rey do both...



Who comes in a distant second on next week's chart?
Credit: Matt Sayles/AP
So there was no doubt that Taylor Swift's "Red" was going to come in at No. 1 next week, the only lingering question is how much over 1 million copies will it go?

With a few days left until Nielsen SoundScan closes on Sunday, it looks like "Red" could sell up to 1.25 million copies. That's 1 million copies over its nearest competitor, Kendrick Lamar's "Good Kid: M.A.A.D. City."

That title will sell a very healthy 235,000-245,000 copies, which on almost any other week would land him at No. 1. No so next week. Swift's feat will make her the first female artist in the 21-year SoundScan era to sell more than 1 million copies of two albums in their opening weeks, according to Billboard.

Three other albums debut in the Top 10: Tony Bennett's "Viva Duets," an album of the legend singing his greatest hits with Latin artists, will likely sell up to 35,000 copies to come in at No. 5. Rockers Stone Sour's "House of Gold & Bones -Part 1" will bow at No. 8, while Lady Antebellum's holiday album, "On This Winter's Night," lands at No. 9, selling between 19,000-22,000. While that's very commendable, fellow country artist Scotty McCreery came in at No.4 this week with his holiday offering, "Christmas With Scotty," which sold more than 40,000 this week.

Of the returning albums, this week's No. 1, Jason Aldean's "Night Train," likely drops to No. 3, still selling a strong 145,000. Former No. 1, "Babel," from Mumford & Sons, lands at No. 4 with sales of up to 60,000. Pink's "The Truth About Love" hangs in there at No. 6, moving up to 30,000 copies. Brandy's comeback album, "Two Eleven," drops to No. 7, while Little Big Town's "Tornado" will likely be at No. 10. A slight caveat: Lady Antebellum, Little Big Town, Scotty McCreery and Adele's albums are all too close to call right now for positions 9-12.

Club show serves as warm up to U.S. and U.K. dates
In an intimate gig in Paris last night (Oct. 25), The Rolling Stones ran through a dozen songs as a prelude to the band's 50th anniversary shows in Newark, N.J. and London in November and December.

The 70-minute show, before 600 people at La Trabendo, included brand new single, "Doom and Gloom," as well as classics such as "Brown Sugar" and "Jumpin' Jack Flash." Tickets for the show were $20, with the 350 that were available to the public snapped up immediately. As we previously reported, fans were limited to two tickets apiece. It was the Stones' first show in five years.
[More after the jump...]
Banks also talks about her collaboration with Kanye West
Credit: AP Photo
Two months ago, Azealia Banks started a flurry of rumors when she tweeted that Lady Gaga had called her to work together, but no details were forthcoming. Now she's spilling the beans on the tracks they created. Lady Gaga and Banks have collaborated on two tracks, though it's unclear if the pair will show up on Gaga's new set, "Artpop." Two months ago, Banks started a flurry of rumors when she tweeted that Lady Gaga had called her to work together, but no details were forthcoming. Now she's spilling the beans on the tracks they created.
[More after the jump...]
What has she done right?
Credit: AP Photo
As you know, Taylor Swift's new album, "Red," which came out Monday, is on target to sell more than 1 million copies in its first week of release. Should it do so (it sold 500,000 copies in its first day), Swift will become the first female artist in Nielsen SoundScan's 21-year history to have two albums sell more than a million copies in one week. Her third album, 2010's "Speak Now," also achieved that feat.

Swift and her label Big Machine have waged a campaign that did everything possible to ensure her success. Here's what other artists and labels could learn from the marketing and promotion of "Red."

1. Share with your fans... but not too much. Swift debuted a portion of a new song every Monday on "Good Morning America" for the five weeks prior to "Red's" release and then fans could buy the song the next day on iTunes. But none of these songs were available on streaming services.

2. Sex doesn't always sell. To Swift's credit, she has enough clout to not make every video look like she just stepped out of a Maxim photo shoot. Though she shows plenty of leg, she is the most-clothed woman to appear on the cover of Rolling Stone in years, other than Adele. Usually, a woman has to be in some state of nudity or lingerie (with smartly placed hands, etc) to be on the cover. She has stayed true to her image and her own comfort level and her fans respond to that authenticity.

3.Even if you're a superstar, you still have to put in the promo time. Swift is working it this week, appearing on "Good Morning America," "The View," "Letterman," etc.. The only folks stumping harder than her this week are Obama and Romney

4. Not only did Big Machine decide not to allow streaming on Spotify and the other services upon "Red's" release, the label only allowed iTunes to sell the album digitally the first week of release, according to Billboard. That's because Big Machine has no control over how iTunes rivals Amazon or Google Play may price the album download and were afraid that the retailers may sell it for less than $3.49 as a loss leader. After Amazon sold Lady Gaga's "Born This Way" for 99 cents, Billboard changed its rules and will no longer count such deeply discounted album sales in their SoundScan figures for the first several weeks of an album's release.
5. Most importantly, make an album that's worth every cut. While I'm not in love with every song on "Red," it is clear that every song got her total attention. There is no filler. She can easily go five singles deep here, but even the album cuts were crafted with great love and care.


'What About Now' slated for Spring release
After taking most of 2012 off, Bon Jovi returns in 2013 with a world tour and a new album.

The tour, dubbed Because We Can, kicks off first. The world tour, which will go to arenas and stadiums, starts in Feb. 13 in Montreal. Look for U.S. dates to follow the Canadian leg, and then the tour will proceed to Europe, the Far East, Africa, Latin America and Australia.

During the tour, the group will debut new songs from "What About Now" its new album out this Spring.
Canadian Tour Dates (U.S. Dates to be Announced):
February 13, 2013 Montreal Bell Centre
February 17, 2013 Toronto Air Canada Centre
February 20, 2013 Ottawa Scotiabank Place
April 2, 2013 Calgary Saddledome
April 3, 2013 Edmonton Rexall Place
April 5, 2013 Winnipeg MTS Centre

We don't think that's him on the cover
Bruno Mars, who scored a knock-out punch as both the host and musical guest on last week's "Saturday Night Live," has released the cover art and track listing for "Unorthodox Jukebox," his new album coming out Dec. 11. And it's unorthodox to say the least.

The cover shot features a gorilla up against an old jukebox--- the kind that still played 45s. Sadly, we can't tell what tunes are in the jukebox or what selection the gorilla is seeking, but it's intriguing.There is a song on the album called "Gorilla," so maybe all will become clear later.
"Locked Out Of Heaven," the first single from "Unorthodox Jukebox," rises to No. 15 on this week's Billboard Hot 100. Mars and his partners in the songwriting production team The Smeezingtons (Philip Lawrence and Ari Levine) executive produced the album. The Smeezingtons partners with other producers, including Jeff Bhasker, Mark Ronson, and Diplo, on the 10-track set.
Are we the only one who wants a banana now?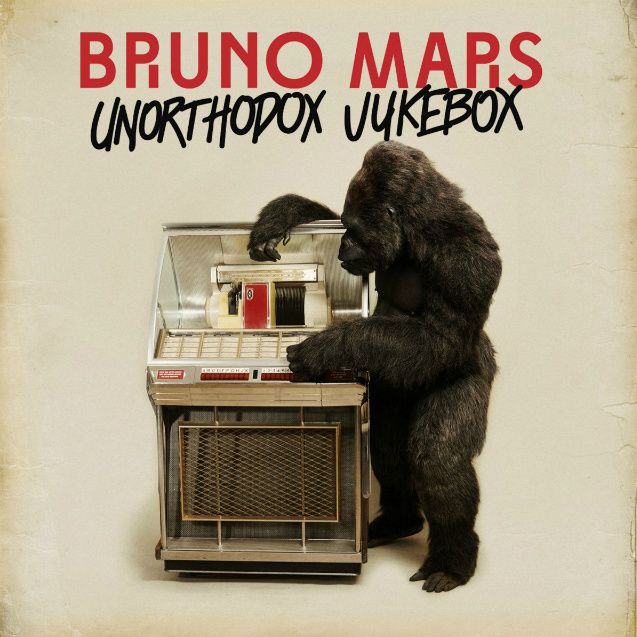 "Unorthodox Jukebox" tracklisting:
1) Young Girls
2) Locked Out Of Heaven
3) Gorilla
4) Treasure
5) Moonshine
6) When I Was Your Man
7) Natalie
8) Show Me
9) Money Make Her Smile
10) If I Knew